Unfortunately, not all of your subscribers will engage with the emails you send them. The average office worker receives 121 emails a day, making inboxes a competitive environment for you to be seen. A couple of reasons why some people might not engage or open your emails include; content, frequency/time of sends and your subject lines. A study by Marketing Sherpa found that personalising the subject line can increase open rates by over 17%.
So here are 6 simple ways to try and re-active your less engaged subscribers and stand out from the other 120 emails!
1. Make your emails more relevant
One of the most obvious ways to re-engage your less active contacts is to go back to the basics, remember why your contacts originally subscribed to your mailing list and the communications they would expect to receive from you. Sending irrelevant content which the contact did not originally subscribe to receive could result in contacts unsubscribing or not opening your emails.
2. Define inactive
How would you define your less engaged users? Have a think about who would be classed as your less engaged contacts. For example anyone who has not responded, opened, clicked or acted on any email sent in the past 6-12 months. With this information you can then set up a list of contacts classified as less engaged and target these people with relevant re-engagement campaigns.
Inactivity can be classed differently depending on the industry you are in, for example if you're running a transactional email campaign based on insurance renewal dates, you may expect less people to interact on a day to day basis, but when approaching the dates relevant to the contact they will be more engaged. This is where personalisation is key, making your campaigns specific and relevant to the data you hold on your contacts. If you work in fashion, you might want to look at seasonal trends to determine inactivity.
There's a really great school of thoughts around the key ways of defining active / inactive subscribers which split into three:
Ghosts: (they were never active, just joined your list once and never opened anything.  The best way to target these people is with a re commitment campaign (e.g. are you still interested) if they're not, get rid of them!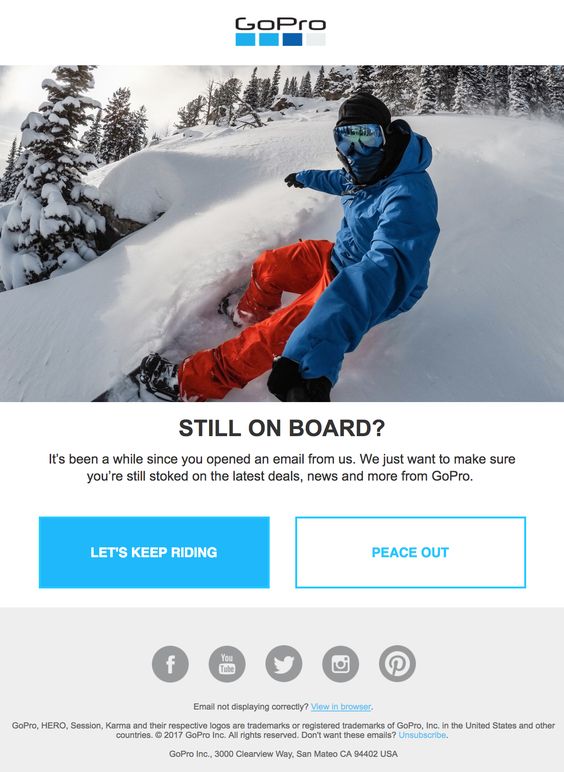 Un-engaged (sleepy) – they were once engaged but aren't any more AND it's only just happened.  Best way to target these people is with a re-engagement campaign.
Zombies – They were once engaged but haven't interacted with an email in yonks and it's unlikely they ever will (Zombies may have once been the un-engaged).  Best way to target these people is to ramp down communications slowly e.g. if you were emailing them weekly, go down to monthly, if you were emailing monthly go down to quarterly etc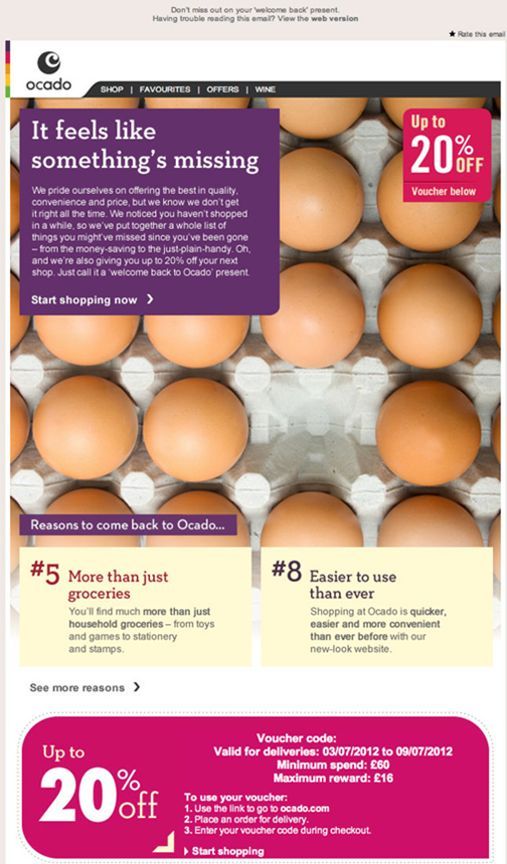 3. Target relevant people
Now you have got your less engaged users defined, you can split them into different groups to ensure they are getting content which is relevant to them. For example you could look at your contacts age, geography, buying behaviour, job title, education or previous open activity. With this information you can go back to point 1 and target these contacts with relevant content based on their demographics.
4. Find out what your contacts want…
…and make sure you're giving it to them. You can use surveys, polls and forms to find out more information about what content your less-engaged customers would like to receive from you. You could ask them questions about the emails they have received from you in the past and what content they would like to see in the future.
Now would also be a good time to ask your contacts to update their marketing preferences. Ask them how frequently they would like to receive emails and what content they would like to recieve, for example; marketing material, business updates and newsletters.
The key thing here is making sure that you use any learnings you find from asking to influence your strategy going forward.
5. Include CTA's
It's important to include call to actions in all of your marketing emails you send out. Giving your contacts the option to get further information and learn more about the content you are sharing with them is vital. Building a reputation that your emails are going to contain exciting, relevant content will increase the chances of your contacts engaging in future communications. Make sure you're getting the most out of your CTA's by checking out our blog on Call to Actions!
6. Improve your subject lines
Subject lines are really important and will most likely be one of the main deciders to someone wanting to open your email or not. There are many ways you could improve your subject lines. We already have a really handy blog post with our Top Tips for an Irresistible Subject Line, go check it out.
I hope these 6 tips have given you some ideas to try and re-engage with your less active contacts. Using our email platform, Enabler, you can build great re-engagement emails, forms/surveys and polls and organise your contacts into data lists. If you would like any assistance or if you have any questions, please contact us and we will be happy to help!
Sometimes marketers need to learn when it's time to let go. There's nothing wrong with cleansing your data of people who don't want to hear from you. Inactive subscribers can be a waste of time and resources. What's the point of focusing efforts on a contact that doesn't seem interested in your company or product anymore?
A final point to consider, if you are constantly trying to email people who aren't opening your emails it could have a negative effect on your sending reputation/deliverability. For example if Google or Yahoo sees that you're sending email after email to people that aren't opening them, they could start diverting your emails to the spam folder.
It's all about making smart decisions summarise what you've said and wrap up
https://storage.googleapis.com/product-enabler.appspot.com/1/2018/12/reactive-subscribers.jpg
675
800
Jacob Wise
https://storage.googleapis.com/product-enabler.appspot.com/1/2018/09/enabler-logo.png
Jacob Wise
2018-12-18 12:12:08
2018-12-20 13:40:52
Re-activate less engaged subscribers