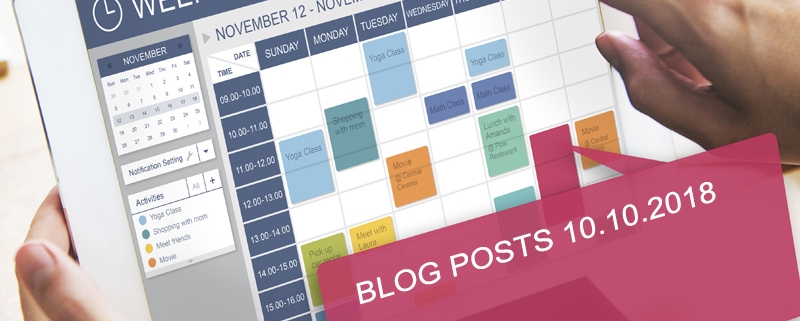 As a marketer, there's nothing worse than the frantic last-minute creation of new content or scrambling for a topic to post about. From erratic emails to hurried hashtags, when it comes to your marketing communications sometimes being reactive isn't always the best philosophy. Proactively planning your communications ahead of time means that you will always have relevant reading at the ready. More importantly, your business objectives and marketing goals will benefit from having more focused communications that deliver you both richer content and quality results.
Sound good?  Then you need an editorial calendar! Allow me to give you an overview of what exactly editorial calendars are, how to create and use them, and a few tips for generating that sometimes-elusive content…
What is an editorial calendar?
Providing a bird's eye view of your content, an editorial calendar is a fantastic tool to help plan your marketing communications for the year ahead.  It is hugely beneficial when it comes to planning cross-channel promotions as it enables you to consolidate your content planning in one place and maintain a consistent tone across your content. Upcoming industry events, public holidays and topics of audience interest will help inspire your content generation, and allow you to set up a posting schedule for your communications.
Your editorial calendar provides you with a clear overview of your communications, ensuring you maintain a regular active presence across all your communication channels, as well as allowing you to spot any gaps or missed opportunities ahead of time. Build a familiar identity through your calendar content by maintaining a consistent tone of voice, post frequency and choice of topics. By being savvy and planning in advance, you can get your content 'in the bag' ahead of time more efficiently, delegating content creation or research amongst your team so you don't have to single handedly build your calendar.  Be creative and make sure you are using every suitable marketing channel available (social, email, blogs etc) to really maximise your communications effectiveness and achieving your marketing goals.  All-in-all, an editorial calendar ensures your marketing communications remain as time-efficient and engaging as possible.
Creating your editorial calendar
Start by deciding how you want to set your calendar up; some people swear by spreadsheets, whereas others like to use one of the dedicated tools available (more on these later.)
When you've got your format sorted, start by looking ahead and plotting in any industry events such as exhibitions or conferences, as well as internal events such as promotions, seminars, product launches, training or networking sessions your company is looking to deliver. Make notes of any content creation opportunities around these events, such as topics for articles, blogs, email campaigns, photo opportunities or subjects for videos.  Try to ensure you plan your content to suit a range of channels (e.g. social media, website, blog, email) and formats (e.g. article, infographic, video) in mind, so that your communications stay consistent without ending up in a rut with lots of duplicate content.
At this early stage, be sure to meet with others to share ideas, begin to delegate tasks and set deadlines, and keep each other up-to-date with progress going forward.
Tips for content generation
It's important to establish the fundamentals of your content before you get posting to ensure that it's all meaningful – your audience will be able to tell if you're just posting for the sake of it.
Consider the purpose of your content. For example, do you want it to drive lead generation, increase sales, or present your company as a thought leader or raise brand awareness?
What sort of audience and customers are you looking to attract?  Think about their possible demographics and how to appeal to them in terms of topics of interest so that the content you post is directly relevant to them, and your time of posting and tone of voice are targeted appropriately.
Pin down the resources and skills at your disposal in the office; you may have copywriters, photographers, and designers who would be happy to get on-board and help boost the quality of your content…use them!
Now that you know where you're going and what you've got to work with, you can start to plan your topics…
Link your products and services to seasonal holidays and events; ideally you should aim to produce more than just a generic "Merry Christmas" greeting message. For example, if you're in the property industry link it to successfully selling your house in the winter, if you're in retail highlight some amazing gifts you sell, and if you're in the travel industry showcase some amazing holiday destinations for the winter.

Not everything has to be an article – remember that content "snippets" are great too – a series of 'top tips', for example, or an interesting fact of the week. A balance of light-hearted and informative will make your content well-rounded and broadly appealing.
Stuck for content ideas?  You can use HubSpot's blog topic generator. Enter up to three nouns and let it generate related blog titles for you – it's great for some quick inspiration!  For something more in-depth, you can use Buzzsumo to see the topics generating the most engagement in your industry and plan your content accordingly.
Tools and templates to get you ahead
For something simple, you could use an Outlook or Google calendar visible to everyone who will be working on content creation, or an Excel sheet (download HubSpot's free Excel editorial calendar template – just fill in a quick form). There are however many excellent free or inexpensive tools available online that could help you be even more efficient and create something a bit more special:
This one has been developed by the guys at WordPress, so if you're already using WordPress as your CRM you can add their editorial calendar as a plug-in and keep everything together. No need to fret if you don't use WordPress – you can just access your calendar through the CoSchedule website instead. You can start by signing up for a free trial to see if you like it, and will benefit from a helpful tutorial that guides you through the set-up. The interface looks just like a calendar, and it's very easy to use with drag and drop flexibility. To continue after the free trial, CoSchedule costs from $30 per month.*
This simple platform starts you off with ​​an empty board, to which you need to add 'sticky note' like lists and add your content information (topic, deadlines etc). As you begin to build up your lists you will see a calendar start to form, and you can easily shuffle things round by dragging and dropping if you rethink your strategy. It's also fun and personalisable with different background colours, stickers and colour-coding. The basic version of Trello is free to use, though you can upgrade to a paid version from $9.99 per month.* if you need the extra bells and whistles, which include unlimited "Power-Ups" for your boards, a higher limit on the size of attachments, more personalisation options, greater security, and priority email support
Asana is a project management ​tool​​ which can be used for editorial calendars too. Start by setting up a project and titling it something gloriously imaginative, like "Editorial calendar", then assign each member of the team their tasks/content to create, grouping each one under the project as you go.  Asana is great fun if you like ticking off lists, has a range of seasonal themes you can select from, and is very straightforward to use.
These fantastic social media tools allow you to plot in your posts into a calendar with all your links, images and copy well in advance, so that your posts always go out at the exact time you want, creating hassle-free social media management.  Both platforms allow you to view all your social streams in one place, allowing you to view and respond to engagement quickly and efficiently. By planning your content in advance, these platforms allow you to be reactive where it counts, by identifying key influencers and potential leads, and turning them into customers. Gain valuable insight into your audience demographic and interests using the indepth analysis dashboards on both platforms, and helping you tailor future content more effectively to drive further engagement.
Whichever tool you choose, taking the time to set up your editorial calendar will equip you with a valuable asset in your marketing communications. It will allow you to tailor your content to your products and business objectives, and help drive consistent audience engagement. Even better, posting regular interesting content will help to raise your brand awareness, which in turn is likely to lead to more customers and boost your ROI.  This blog should help you get your editorial calendar off the ground, so now all you need to do is source your content and you're away!
Happy planning! 
https://storage.googleapis.com/product-enabler.appspot.com/1/2017/07/image_081.jpg
675
800
Suzanne Reeves
https://storage.googleapis.com/product-enabler.appspot.com/1/2018/09/enabler-logo.png
Suzanne Reeves
2017-01-24 11:00:46
2018-12-07 13:58:34
Planning your editorial calendar - get ahead of your marketing comms