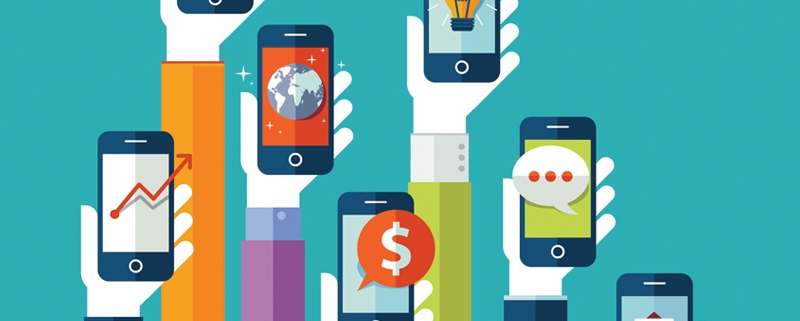 Email marketing traditionally has the highest ROI of any digital channel and is one of the most effective tactics to use within an integrated marketing mix.
In an era when existing and potential customers are accessible 24/7 via a smartphone, not optimising your email campaigns for mobile devices could mean you might be missing out on some great opportunities.
You might be surprised to hear that the average adult spends over 20 hours online per week – more than doubling in a decade.  As well as having on average three social media profiles to maintain, your potential customers are browsing online for almost everything. From grocery shopping to booking flights, streaming their favourite programmes or making bank transfers – your customers are doing anything and everything online – so having a strong digital presence is vital.  Although I'd suggest using an integrated marketing mix to target your customers using at least three channels, I'd like to focus on the benefits of one of those core channels: Email Marketing.
Email campaigns are not only designed to generate sales but also to inform, increase brand awareness, advocacy and trust. The most common forms of email marketing are newsletters, lead nurturing, paid email and so called 'triggered' email to mention just a few. All of these campaign formats come down to creating content that is of interest to your target audience.
Simple!  Or is it?  It all depends how well you know your target audience.
Before you press send: Set your goals
I can't stress strongly enough the importance of setting campaign specific goals. This helps you to keep your campaign on track, gain meaningful analytics and gauge return on investment.
Before you start planning your email campaign, ask yourself: what do you want to achieve? You may want to drive traffic to your website or social media channels, or promote a product or service. Whatever your goal, setting targets helps you to measure engagement and ROI, draw conclusions, and implement any necessary changes to help improve future campaign performance.
Once you have set clear goals for the campaign, you can start planning content. Although it seems that content is king, there are still many companies out there who do not target their content effectively. There's nothing more off-putting than wasting a customer's time by offering them content of no interest to them. It's also the quickest and most effective way of losing some great prospects by prompting them to press the 'unsubscribe' button.
Content: Be relevant and be informative
'What's relevant content?'  I hear you ask… Well, it depends on factors such as industry, data available, creativity or the abilities of your agency. There are many ways of creating great content.
For the fashion industry it could be all about seasonal trends, latest collaborations or 'dress to impress' tips. A company that operates within the steel industry could send their customers a useful guide to different steel grades, examining steel's strength, parameters and the heat resistance of steel components for relevant industries.  Other ideas for relevant content could be recent changes in legislation that could affect your customers or advising customers about your new products and services.
The simple rule is to do some research on your target audience, via customer satisfaction surveys, seminars, social media monitoring and so on, so they can tell you what content they are likely to engage with.
Testing, testing…
Once the email content is finished and the campaign is ready to be sent, it's time for testing. There are two ways of testing and I suggest you use both methods. The first one is to enter preview mode from the menu to get an overall idea of what the campaign will look like. The second and most accurate method is to send a test email to yourself and your colleagues. You should ask them to proofread it and give feedback on:
•    Subject line
•    Images/ design/ font
•    Links and call to action
When testing, inbox rendering should also be taken into account and that doesn't mean just sending a test to your smartphone and email. Most customers don't use the same device as you and as so the HTML will display differently on their device. It is a good idea to send a test to an email rendering service website that enables you to preview how it will display with different email providers such as Outlook, Android, iPhone etc.
Other aspects of email testing are dynamic and personalised content. It's a good idea to do test sends to ensure all the merge fields like firstname display correctly when sent, and even better to preview test the different data your dynamic content is centred on, i.e. gender, industry etc, to see how the template responds and if it requires adjustment. Once you are satisfied everything looks great, all the links and CTA work, and everything renders correctly, you're good to go and send your campaign!
Time to send
Timing is everything they say and your email campaign is no exception. Depending on your customer base, industry and the time of year, there will be certain times when your email campaign should be sent out in order to be most effective in terms of open rates and responsiveness. There's numerous blogs out there, each giving you different days and times of when you 'should' send your campaign, but the best practice is to track your own campaign data.  Send customers your emails on different days of the week and different times of day, track when the open and click through rates are at their highest – your own data will tell you when's the best time to send your campaign.
Bounce Backs or Unsubscribes?  What to do next…
So you've created the right content, chosen the right software and sent the email campaign. But you received an 'undelivered' message and your email bounces back. If this happens, common practice is to investigate why the email address is not valid and update it.  The 'unsubscribed' list should also be updated after each email campaign. Although it is a shame to see a customer opting out of email communications, it's essential to update our customers' preferences after each campaign in line with their request.
Tracking is vital
Your email marketing software will have a tracking tool built into it so you can work out what happened once you hit the send button.  As with any other marketing activity, tracking is crucial for measuring campaign success. The most relevant data to capture is delivery rate, open rate and click-through rate.  If you've got trackable links, then you should also be recording the traffic and leads your email campaigns have generated to really gauge their ROI effectiveness. Consequently, the more attention you pay to tracking your current campaigns and implementing changes, the greater the chance of future campaign success.
Don't leave it with an email – Follow up
Follow up activities are crucial, especially for product-related, sales-orientated campaigns. Some organisations will gather the list of customers who opened and engaged with the email and follow it up with an additional piece of comms via email, a phone call, snail mail etc to discuss if the customer would like some more information or place an order.
 By contacting those customers who engaged with your initial campaign content, you can start to build relationships with your potential customers and generate new leads.
Moreover, following up enables you to put a voice to your brand that reinforces your campaign message, which should give you more trust with your customers, making them more likely to respond to any future emails you send them and therefore less likely to unsubscribe.
Using these simple tools, you're sure to build targeted campaigns with content that's engaging.
Email is just one string in the digital marketer's bow, but it is probably one of the most vital in helping you build and maintain relationships with your customers and generate revenue.
https://storage.googleapis.com/product-enabler.appspot.com/1/2016/10/image_089.jpg
675
800
Dominika Michalik
https://storage.googleapis.com/product-enabler.appspot.com/1/2018/09/enabler-logo.png
Dominika Michalik
2016-10-19 20:05:30
2018-12-07 14:04:44
Email marketing: back to basics