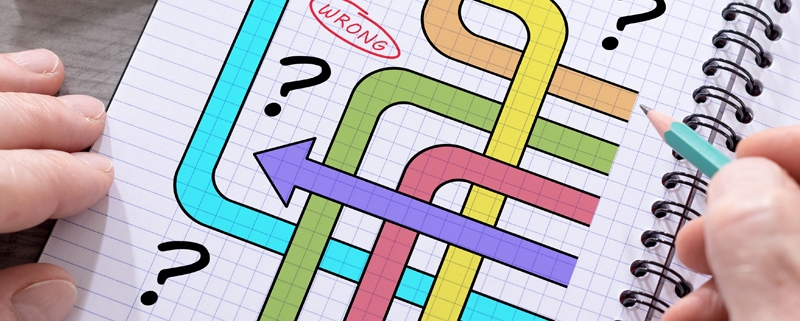 Choosing the right email provider can feel a tad daunting. The closest thing I can compare it to is renting a house. You really want to find somewhere that fits all your stuff, has all the rooms you need, doesn't cost an arm and a leg to rent, and you wont end up wanting to move a few months after signing the contract. Sure, you can deal with having no double glazing… but why should you? It's the same with email providers. You want one that stores all your stuff (data) in the way you want it to, has all the rooms (functionality) you need, doesn't cost an arm and a leg to use, and ideally you don't want the hassle of having to switch providers down the line because it doesn't live up to expectations.
Don't panic though, because I'm going help make choosing a new email provider very straightforward and, unlike house viewings, you won't have to leave the comfort of your chair!
Six Easy Steps to Follow When Choosing an Email Provider:
1. Strategise
You're clearly looking for an email service provide (ESP) for a reason. My guess is you've worked out that email is a super effective marketing channel, where the costs can be relatively low and the results can be outstanding. But before you choose your provider, you need to think about how you want email marketing to work within your overall marketing strategy.
It really is important to have clear objectives and goals around what you want to achieve from your email marketing. These decisions will help influence your choice of provider, dependent on if they offer the functionality to help you achieve these goals.
For example, are you going to be sending newsletters, upselling or using email as a lead gen tool? What metrics do you want to track?  Do you want your emails to be created within a simple drag'n'drop system or do you want to add externally created HTML designs? Are you interested in dynamic content or A/B testing? Your answers to all these questions will help dictate the features you want from an ESP. It will also give you a clear idea of what your priorities are when selecting an ESP, and who is most suited to facilitate those priorities.
2. Think About Features
There are four key features that you should be checking when selecting a provider – and they are a must. You'll need to ensure that the tool you're looking at not only has those features, but also makes them easy to use. You'll also need to have a clear idea about which features are a priority to you and your business.
Templates:
A key part of any email campaign is creating the emails you plan on sending. Any decent email provider should be offering you an easy-to-use solution for creating the email templates yourself within their system. For example, in Enabler, we have a drag and drop system which allows you to create emails using simple building blocks, that are mobile responsive by default (another key thing to look out for). When looking for your new system, you should also want to ensure it allows you to upload HTML and images created externally to the tool. Free image hosting is a great bonus too!
Tracking:
Creating beautiful emails is all very well, but how useful are they if you can't track how well they are performing? A good ESP will let you track opens, clicks, send / net send numbers as well as bounces and unsubscribes. However, a more robust enterprise level system, like Enabler, will let you delve deeper into the metrics and look at what devices / browsers your recipients are opening the emails on, as well as letting you report on demographic data and day/hour engagement performance. You should also enquire if the ESP has end-to-end tracking (tracking behaviour from the email right through to your website pages).
Automation:
Sending the most relevant messages to the right people at the right time is super important, and that's what automation helps you do. Ensure your email service provider offers solid workflows to help you schedule and send automated messages.These should be laid out in a clear way – a step-by-step structure usually works really well. If you feel like you need more information about automation before making a decision about what works for you, take a look at our blog: What is Marketing Automation?
Extras:
Is there something else that you think you might need for make your email strategy to work? Maybe you want to be able to create and send forms and surveys, or create bespoke landing pages from within the tool? Really good ESP's will provide these things, some even provide them as standard – like Enabler -, but not all will so make a list of what you need and make sure to ask each ESP if they fulfil these requirements.  It's also worth asking if these features come with the system or if they are optional extras that you will be charged extra for.
3. Define Your Budget
Email in general doesn't need a huge budget to be effective, but in marketing, effective isn't always enough. If you want truly epic campaigns and associated analytics, you need to ensure you're putting the budget in place to achieve this.
Email systems vary in terms of price range. There are very basic free tools out there and then there are tools that cost tens of thousands of pounds and have a ton of advanced functionality.
Now, enterprise level providers may seem attractive on the surface, but if you don't actually use all those fancy add on features which cost those extra pennies (which by the way can take a lot of time to learn how to use in the first place and you may end up spending many precious hours trying to navigate) you'll end up just throwing good money away.
Basically, you have your choice of low, medium and enterprise level providers. Choosing the right one for your needs can keep costs low and deliver functionality while simultaneously keeping return on your efforts high.
4. Look at Delivery Rates
There's no point putting together beautiful campaigns if they don't get through to anyone. To have a chance of engaging customers and prospects, your messages have got to land in their inboxes. Now, that might sound obvious, but not all ESPs are equal when it comes to delivery rates. Make sure you are asking potential ESPs about its delivery rate and how they work with their customers to keep that rate high. Ideally you want to be searching for a provider that can offer rates of over 95%.
To bare in mind that delivery rates are a combination of both how the email service provider ensures delivery to inboxes on the backend and how you use the service. For example, if you buy a data list and start sending to it, you may find that you have a high bounce rate which can impact your sending reputation. Ensure you are asking for any resources they offer on best practices for content and list management, and also find out if you can have your own sending IP to ensure you're not influenced by what other clients of the ESP are doing with their data.
5. Check Out Customer Service
ESPs will all offer different levels of customer support for their product. There are a few key things to look for in this area when selecting a provider:
Support response:
Give their support desk a call and see how long it takes for you to be speaking to a real human. Is there a key place on the product that tells you how to get in touch with the support desk? Have a look at what their response rates are – they should be able to share these stats with you (example of one of these stats guides from Enabler's customer service desk to the right). Think about what kind of support you will need, do you need Monday to Friday, or weekend support, or particular international timezones? Have they ever won any email awards for their product or support?
Help systems / guides:
Does the ESP have an online help system where you can search through frequently asked questions, or find out how a certain piece of functionality works? If so, this a great sign. Properly good support systems will also have step-by-step how to guides available for key areas of the system.
What other clients say:
With any product, you want to know that you'll get the best support out there. Testimonials from existing clients of the ESP are a good indicator of how good both the product and the support network is. You can also have a look at the sorts of clients using the product – do you think their objectives are similar to yours? If so, they may have done some of your homework for you!
6. Make an Informed Decision
Once you've considered all the factors we've discussed, you'll be in a position to select a provider. Now, before you go any further, I wouldn't be doing my job if I didn't tell you to consider throwing Enabler into the mix (check out the product here). Right, sales pitch over. Time for me to wish you good luck in choosing your ESP… that's if you haven't chosen Enabler already! Okay now I'm really done, promise.
If you're interested in finding out more about anything in this blog, drop me an email – I'm always up for a chat about email! #EmailGeek
https://storage.googleapis.com/product-enabler.appspot.com/1/2018/10/image_064.jpg
675
800
Sophie Graham
https://storage.googleapis.com/product-enabler.appspot.com/1/2018/09/enabler-logo.png
Sophie Graham
2018-03-27 11:00:53
2018-12-07 12:06:21
Six easy steps for choosing your email provider