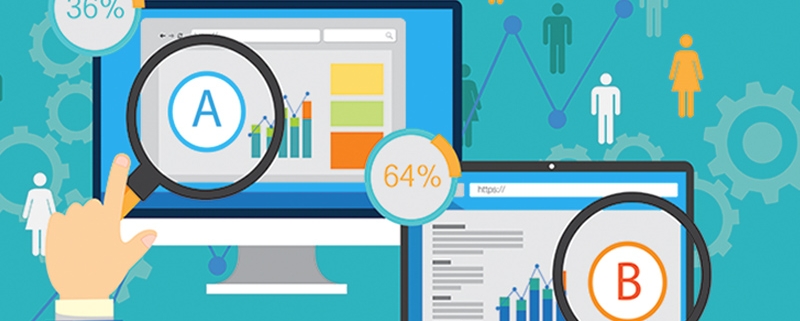 Email is an excellent way of communicating with your customers and there are always ways to improve interaction. You may have heard the terms 'AB testing', 'split testing' or 'multi-variant testing' being batted around in the marketing world but what is it… and why should you be doing it?
A/B testing is taking two (or more) versions of something and displaying these different versions to selections of users to determine which one works better. The term can be used for many areas of marketing but I'm going to focus on email. With email testing, we look at open rates and click through rates to determine which variant of the email has performed the best.
Well-planned A/B testing can make a huge difference to the effectiveness of your campaigns.
It's important to test because no database is the same as another and you can't just rely on research by others and apply it to your own campaigns. Even within industries, there can be huge discrepancies between what works for one company and what works for another.
The first thing to do when planning an A/B test is to figure out exactly what you're trying to improve. Are you looking to improve your open rates or click through rates? Are you trying to work out what type of email best suits your audience or are you testing content? Whatever you're looking to improve, there's a test for it. Here are a few ideas to get you started:
Subject line
This is one of the first tests I'd recommend running. It's really effective for boosting open rates. You can try testing anything from the length of the subject line, to using your customer's names, to referring to the offer in the email. Whatever you do, remember to make them different enough to notice an effect. The great thing with subject lines is that you can test multiple subject lines at once. I've run campaigns where we've tested up to 10 subject lines in one go!
Subheader
This is the first piece of text within the email template and sometimes also displays alongside the subject line in the recipient's inbox, depending on the email client. If the first text in your template is 'Click her to view this email online' you're missing out on an additional opportunity to get your message across to your audience.
Headline
As one of the first parts of your email the customer sees, this is a pretty good section to test. You can try posing a question or relating the headline copy to the rest of the email – it's up to you.
Call to action
This is another section of your email to really dedicate some testing time to. It's the part of the email which can determine whether your customer takes the action you want. You can test creative look and feel, or the copy itself.
Personalisation
Are you going to use your customers name within the email? How about relevant information? For example, if you work in the insurance industry you might include a policy number or the name of their pet (but maybe only do the pet one if you specialise in pet insurance, otherwise you're headed down the stalker route!). Personalising an email can help engage your customers. This doesn't work for all email recipients, which is why it's perfect for testing. Read our blog on personalisation for more tips and ideas on this subject.
Creative
The layout of your email is one aspect with which you can have endless hours of testing fun. You may decide you want to put different sections of your emails in different places to see what gets more traction from this alternative placement in the design.
Testimonials
This is fairly simple. If you've got the testimonials to back up your product, why not try them out to see if they boost engagement?
Time of day
Timing is another effective variable to test. I've seen this have more impact with B2B than B2C databases, due to the flow of the work day. For example, some people prefer to check their emails on their commute or during their lunch break but are more likely to interact with them towards the end of the work day on the commute home. However, you may find that your B2C database prefers morning sends to afternoon sends, or vice versa. Either way, it's an easy and effective aspect to test.
Imagery
Imagery is one of my favourite elements to test, mainly because it's really interesting to see if customers are affected by imagery. If you have a picture of your product in there, how do users react to it? You can also test placement and quantity of imagery.
Amount of content
Content testing works especially well for blog based emails or newsletters. Providing customers with too many articles can cause a paradox. If there's too much choice, to the point where the user feels overwhelmed, they may not take any action. However, in other databases you might find that the more content you include in these emails, the more click throughs you get.
Wording of offers
Choice of wording can be applied to almost any area in an email but the one I've seen work the best is copy surrounding discounts. Some customers may respond to '50% off', whereas others may prefer seeing '£20 off'. How you word your offers can have a big impact on the click through rate, so this is an important consideration for those of you running promotional emails.
Overview
The key thing to remember when selecting a test is to make sure you only do one test at a time. In order to determine what has had the impact on your interaction lift, you need to know exactly what it was that worked. If you try testing subject lines and creatives at the same time, it's very difficult to pinpoint exactly what made the difference and if one test affected the outcome of another.
The second thing you should do is work out who you are going to test on. As general best practice, I'd always test on a statistically relevant percentage of your data and then roll out the winning result to the rest. This ensures you are exposing the majority of your customers to the winning version.
Thirdly, make sure you're always keeping a record of the tests you have run and what the outcome was. You can then use these findings, and apply them to subsequent campaigns. Having said this, if you find something that works don't just stop testing that element. For example, if you find a particular style of subject line that engages your audience don't just assume this will work for your customers forever.
Imagine you got the same style of subject line for all the emails you received in the next three months 'Andrew, check out these new offers'…. over and over again. You'd get bored, we all would. When email subscribers get bored, they stop interacting. We call this having 'list fatigue' and it happens when brands tactics have gone stale. To ensure this doesn't happen to you, make sure you keep on testing and trying out new things to keep your subscribers interested.
You may find several elements that work really well for you and you can keep these on rotation to use when the previous formula stops working.
A/B testing is such an interesting area of email marketing. It's a chance to get creative with your emails and really get to know your customers, finding out what makes them tick and improving your results at the same time. I hope you have fun testing your emails and that you boost your campaigns as a result.  And as always, if you have any questions about this subject or what we do here at Enabler, get in touch.
https://storage.googleapis.com/product-enabler.appspot.com/1/2016/04/image_071.jpg
675
800
Sophie Graham
https://storage.googleapis.com/product-enabler.appspot.com/1/2018/09/enabler-logo.png
Sophie Graham
2016-04-11 11:00:06
2018-12-07 14:13:11
A/B testing your email… easy as 1,2,3?